We're so proud to have been fighting food waste and hunger for 10 years!
Last week we celebrated our 10th anniversary by welcoming guests to our warehouse for some entertainment, food and a chance to find out more about what we do. The weather treated us to sleet, rain and an upcoming yellow warning for wind but we braved it out!
Tours were running throughout the day with guests seeing our warehouse, fridges and asking questions to our staff. We estimated these to take around 10 minutes however, the first tour, run by Dan one of our Assistant Operations Manager, was having such a good time, they were still chatting an hour later!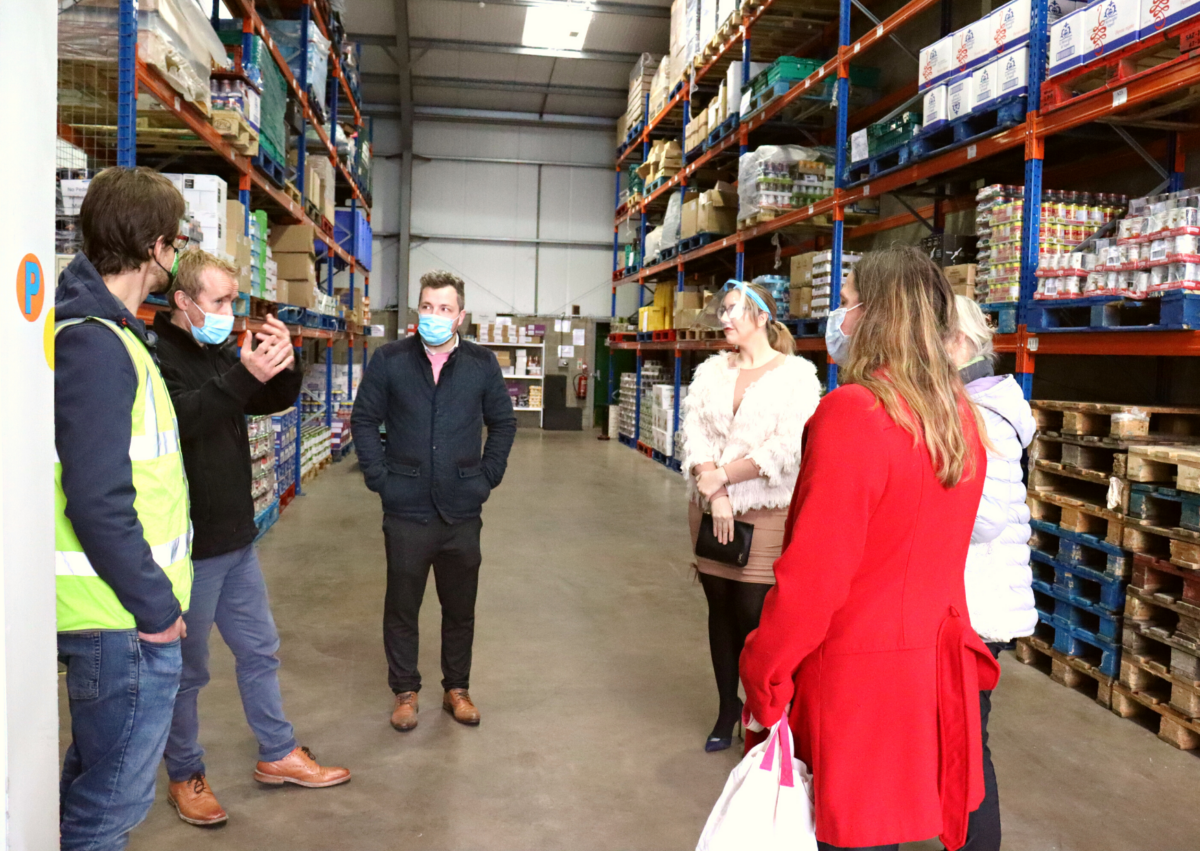 The tours were followed by a musical performance organised by one of our volunteers Nick Whiting. When he's not volunteering with us, Nick is the Associate Leader and First Violin in the BBC National Orchestra of Wales. Nick put together a performance with fellow volunteers David Simpson and Glyn Price. We also have to thank Beverley Wescott, Angharad Jones, Heather Thomas and Phil Pinder for their involvement too. 
Our lunch was kindly provided by Beca Lyne Pirkis, Welsh cook, food, presenter and semi-finalist GBBO 2013. Beca visited the depot a few days before to find inspiration for the meal, choosing surplus items to make a Lebanese Vegan Stew. The feedback was great with many guests surprised at what you could do with a can of chickpeas! We can't thank Beca enough for her help, and the wonderful cake she made too.
When we started FareShare Cymru 10 years ago we knew that it was a good idea, that made sense and was needed in Wales. There was good food being wasted and there were organisations and people that needed food. We wanted to change that. 10 years on and the difference that FareShare Cymru has made is incredible. A big thank you to everyone who has helped us achieve so much.

Sarah Germain, founder and CEO of FareShare Cymru
Our history: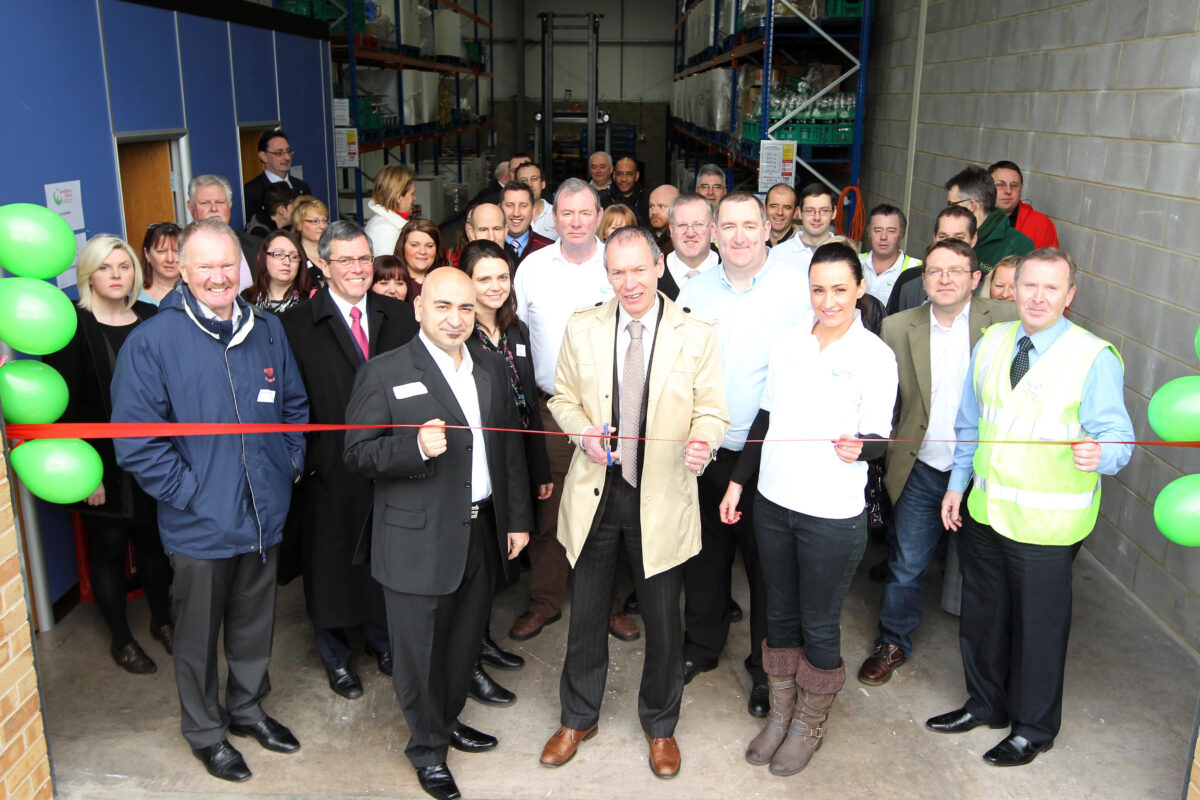 We started with a grant of £1000 from Environment wales (which sadly no longer exists) which allowed us to make some phone calls, pay for some postage and some leaflets to spread the word about what we were trying to do.
To start there were just 2 members of staff. We started out redistributing just 2 tonnes of food in our first month (July 2011), we had 4 community food members and less than 6 volunteers and we were working in just Cardiff and Newport.
In the early years, we struggled for fresh fruit and veg and a group of ex placements decided to set up an allotment in 2012-13 to help us meet this need… it lasted a couple of years.
In 2013/14, we took on our 3rd member of the team and start expanding our reach – seeing us start delivering into Torfaen as well as getting involved with what was to become Food Cardiff.
In 2016, we hit the milestone of redistributing enough food to contribute to over 1million meals.
The funding that FareShare UK helped the network secure in 2017 helped us to grow rapidly. This funding from the National Lottery and ASDA allowed us to take on additional members of staff – growing the team to 6. This allowed us to extend our reach into RCT, Caerphilly, Bridgend and the Vale of Glamorgan.
By 2019-20, we were at 7 members of staff and extended into Merthyr Tydfil, Swansea, Neath Port Talbot and Blaenau Gwent. This allowed us to take in more food and we started opening on Saturdays and Bank Holidays.
2020 was dominated by the pandemic. We are immensely proud of our staff and volunteers for all the hard work that they put in, ensuring that we got food to where it was needed. We know that it was tough. We doubled in size, growing much quicker than we had planned due to a surge in demand. The number of organisations we were supporting grew by 53 in the first 3 months of the pandemic. Peoples' generosity to volunteer their time also amazed us as numbers soared to an all-time high. We also worked with the Welsh Government, FareShare UK and FareShare Merseyside to implement an emergency response in North Wales, and the Red Cross in West Wales.
All this saw us redistributing enough food to contribute to over 2.8 million meals last year.
Over the last 10 years, we have
saved over 4947t of food from going to waste
contributed to over 13.5 million meals
1000 volunteers, have given over 95K hours
saved the third sector over £5million
supported over 318 community food members
helped save an estimated 15,283t CO2e
2021 and beyond..
We have been conscious that our service for a long time has focused on the South East and South Central areas of Wales and we know the demand is there elsewhere too. So for the next phase of our development, we are taking the first steps in developing FareShare ledled Cymru (FareShare throughout Wales).
We are continuing our partnership with our colleagues from FareShare Merseyside to continue to deliver and develop in North Wales.
This year we have also been undertaking development work in West Wales to allow us to start delivering in the region from this coming March. We will be starting in Carmarthenshire and then hope to be able to cover other areas in the next few years.
We want to say a huge thank you to everyone that has helped us get where we are today and couldn't have done any of this without our Volunteers, Trustees, Funders, Food Donors, Supporters, Advisors, Partners and Community Food Members.