On Volunteers' Week, we would like to thank our volunteers for their hard work in our warehouse, and share with you some of our volunteers' stories. Without volunteers, our work would simply be impossible. They are the ones to accept deliveries, sort the food, pack up orders, and deliver food to charities and community groups within South Wales. We have had an influx of new volunteers during the COVID-19 pandemic, and a lot of our volunteers have had to put their every-day work on pause meaning they had time to get involved and volunteer with us.
Volunteers' week gives us the chance to say an extra thanks to all our volunteers. Without them we couldn't do what we do. Our volunteers go that extra mile on a daily basis so together we can help feed those most in need across South Wales.

our Volunteering Officer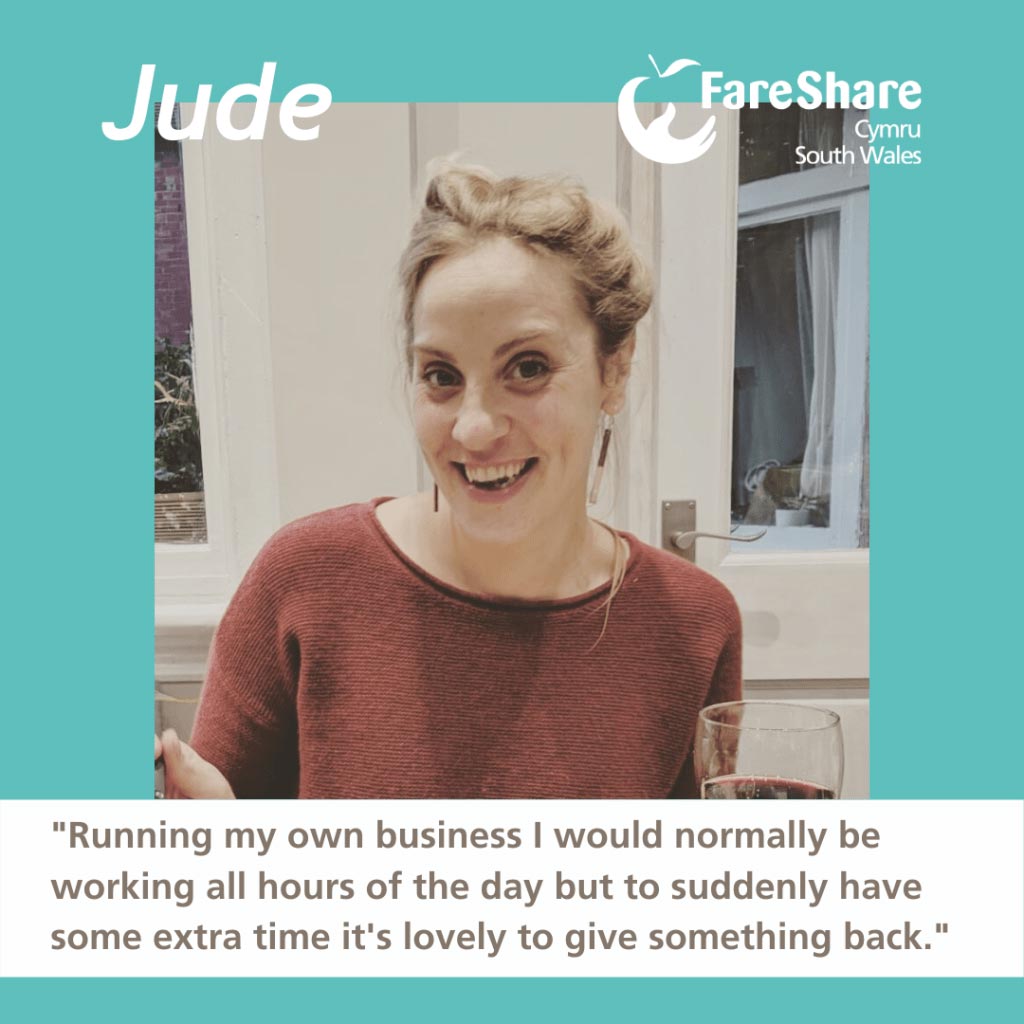 Jude designs and makes sustainable jewellery that has been in museum shops such as the Tate Modern as well as many independent galleries and shops across the UK. Due to the virus, she has had to cancel her current jewellery course and indefinitely put on hold any new ones. The galleries and shops she sells her work in have closed so it's got a fairly quiet on the making side of things too.
Her work has suddenly turned quiet, but as she says she is healthy and in a position to help others in a tougher situation than hers. She saw a post on her local mutual aid Facebook group saying that we were in need of volunteers and thought it was perfect as it helps others and reduces waste – "a double win".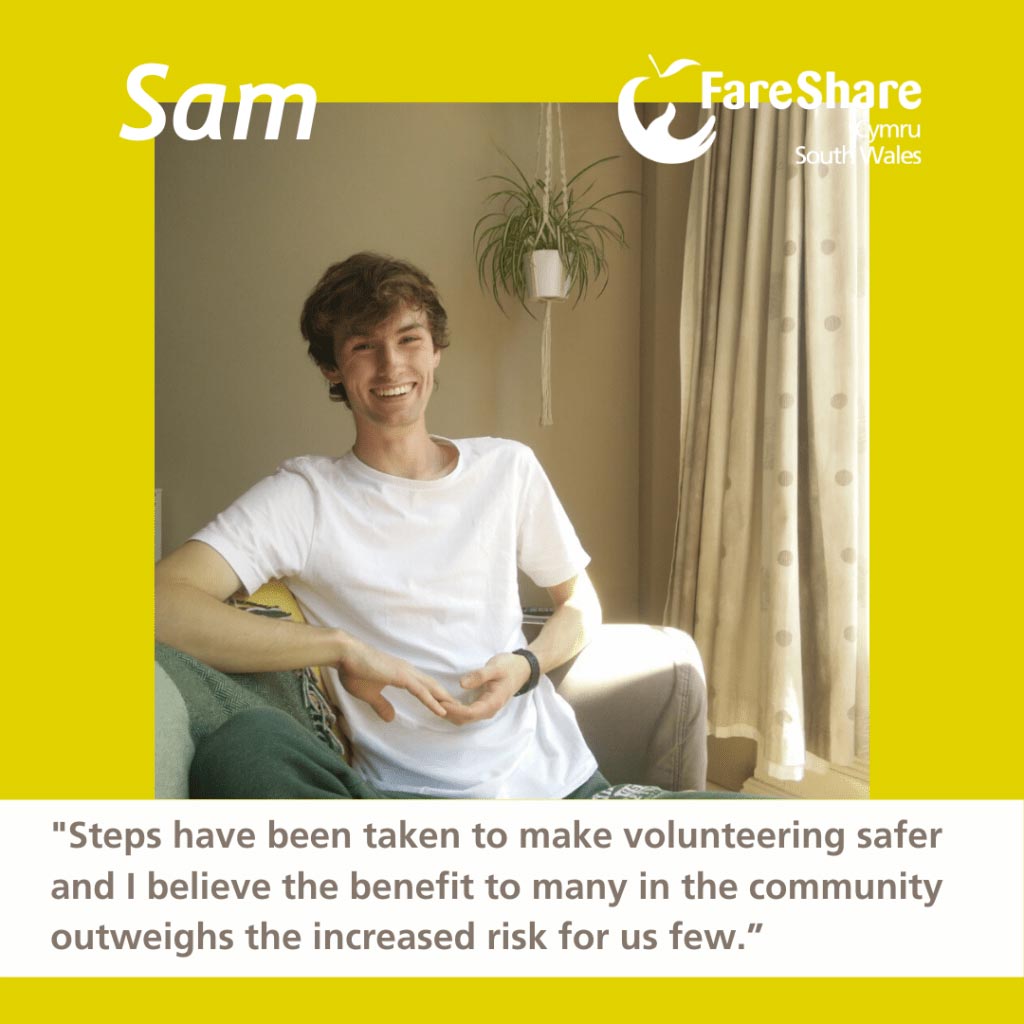 Sam decided to start volunteering as he needed something to get me out of the house. He is currently searching for a job, but because of the pandemic it has been difficult. So other than volunteering with FareShare, he decided to use his time to also volunteer with the Coronavirus Tutoring Initiative, teaching chemistry and maths online, as well as standard tutoring on Tutorful.
"FareShare really grabbed me with it's twin benefits of social and environmental good. I joined just before the lockdown hit and I'm proud to be contributing at a time when FareShare's work is even more necessary. It's been really fun and rewarding. I've really enjoyed getting stuck in on a busy day and it's good for taking your mind off wider events."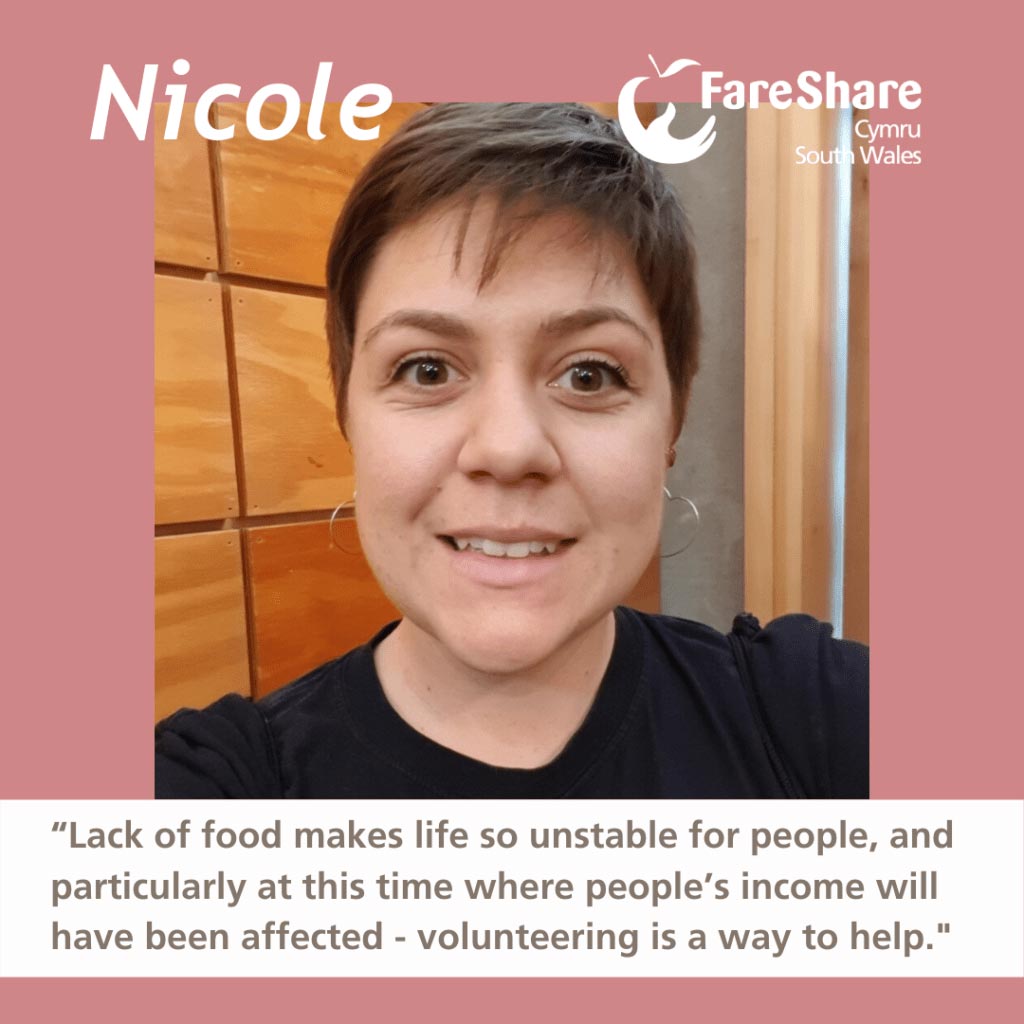 Nicole had been looking for somewhere to volunteer for a while, and when the pandemic started she had to stop working and suddenly had loads of free time to be able to give to volunteering. She is a prop and costume maker for theatre and other events, including Katy Perry live performances, and all of those types of events have been put on hold for a while.
She says she loves volunteering and that everyone is really friendly. "It keeps me active so it's definitely helping me maintain some balance at the moment. It's also nice knowing I'm helping in a small way to make life easier for people around this area to get through the pandemic too. It is a fulfilling way to spend my time"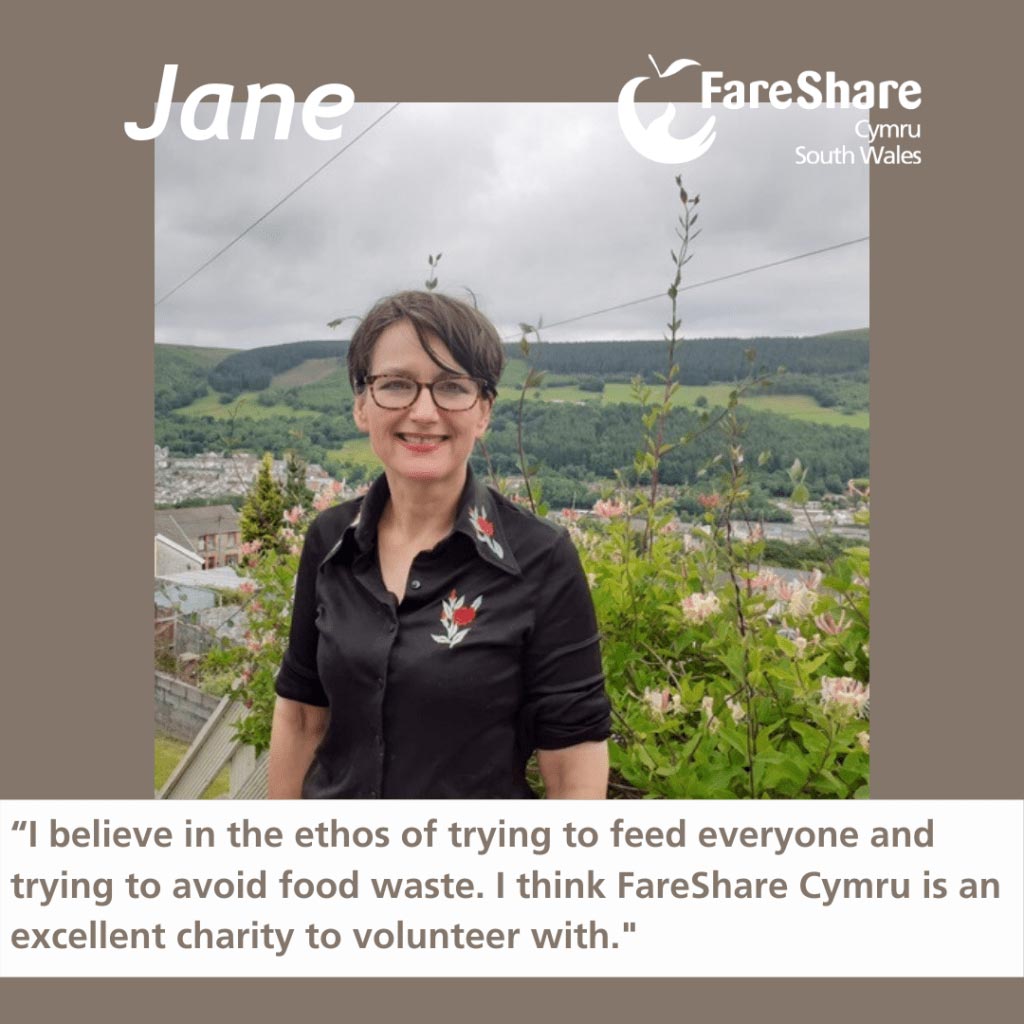 Jane is an artist and usually has a small studio to make sculptures and do research. This space has been closed during the pandemic and so she has been concentrating on other creative activities such as writing, poetry, and drawing, as well as growing food.
She says she has found the experience of volunteering with FareShare rewarding, and that she likes driving the delivery van to the charities and community groups across South Wales, the physicality of the work, and the company of like-minded individuals who also believe in the work we do.
Thank you to all of our volunteers for the hard work they put in every week. If you volunteer with us and would like us to share your story, email info@fareshare.cymru